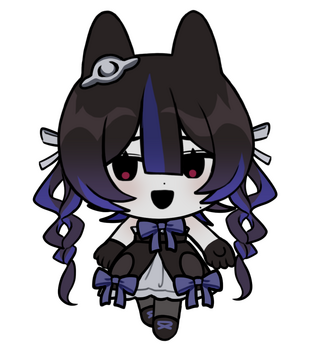 Salutations, I am known as koro! I enjoy paintings and horror games.
I also draw and make Live2D rigs
(Part of a friend group known as Identity Lost)
Perhaps one day we'll have a fateful encounter?
Terms of ServiceBy commissioning me, you are bound to these terms:1. Do not claim my work as your own. If you repost an illustration you commission from me, please tag me in the post.
If you use one of my Vtuber models, please tag me (@kororo6n on Twitter / kororon on Twitch) or link back to my website.
Anywhere on the site the model appears in (on your profile, about section, pinned post, panels, etc.) is OK as long as it is easily accessible/clearly visible.2. Do not redistribute (resell) my work without permission. This includes minting or selling the work as NFT.3a. (Art only) The commissioned piece is only for personal use.
Do not use for commercial purposes (such as mass reprinting or selling merch) without my permission. Commercial pieces will cost an additional fee.3b. (Live2D art/rig) The fee for individual commercial use (ie: Twitch Affiliates/Partners, Youtube creators, etc.) is already included in the commission.
If you plan on making significant revenue/want unrestricted use of the model please contact me to negotiate additional terms. This mainly applies to Agencies/non-indie content creators.4a. I reserve the right to showcase the commissioned work for social media, portfolios, and/or show as examples for future commissions.4b. Commissioned work may be requested to be private. In this case, I will not post or preview work on social media until the commissioner is ready to debut/reveal the work.
I may still post the work on my website after it is complete for showcase/archive purposes.5. I reserve the right to modify the PSD to make model art suitable for Live2D rigging.
This mainly applies to my Live2D rigging for art by a different artist. I may request PSD edits from the original model artist for the best outcome.6. I reserve the right to decline or cancel the commission if I believe I can't complete it.7. I reserve the right to cancel the commission if I do not receive the down payment within 7 days.8. Full or partial refund may be available depending on how much work has been done. Completed works cannot be refunded.9. Major revisions requested by the client past the sketch stage are limited to up to 3 times. I will give notice if the request is considered major. Additional edits past that may require a fee.
Minor edits will not incur fees unless they become excessive.10. (For Live2D art/rigs) After delivering the final product, the commissioner may test the model and request final adjustments/corrections within 7 days of delivery. Adjustments past that time limit will be considered but not prioritized and may come at an additional cost. Mistakes on my part will be fixed for free.11. I do not provide the project file for Live2D rigs. (Only the moc3 file for face tracking software is given)
I will not edit models rigged by another Live2D modeler without their permission.--Breaking the TOS will result in cancelling the commission and/or blacklisting the client for severe cases.
---
Payment- My pricing is based on USD- You must pay at least 50% of the cost up front or pay for the work in sections
(50% Model Art cost upfront -> I send progress-> Client completes payment -> I send finished PSD)
(50% Model Rig cost upfront -> I send example gifs + watermarked test model -> Client completes payment -> I send un-watermarked model file)- I will send an invoice once the final cost is calculated and agreed upon.- Once payment is made, I will begin working on the commission.
---
Turnout-I will give you an estimate of the completion time, but any estimates are not hard limits. The main reason is because I prefer to work over a larger spread of time to make revisions.
Please let me know if there's a date/time limit you want me to finish by! I can work within a deadline as long as I know in advance.- You may request rush commissions for an additional fee but I may decline if I dont think there is enough time.- Live2D Model art will vary in required time depending on complexity.- I will notify clients once I begin working on their commission.
Feel free to contact me at any point to check on progress.- For Live2D models, I only give out PSDs or full model files once the commission is fully paid for.
Partially paid model rigs will be sent to the client with a watermark for demo purposes.- I may post WIPs or livestream working on your commission UNLESS you request for the work to be private.
---
I heavily referenced this TOS from Faf, with permission!
thank you faf!!